Dental implants are used to replace missing teeth and have recently become an integrated treatment in dentistry to treat both total and partial tooth loss. Dental implants also provide several advantages compared to traditional dentures.
As a result, dental implants are a root created of a substance that is implanted to offer stability and support for permanent or movable artificial prosthodontics.
v Illustrate dental implant…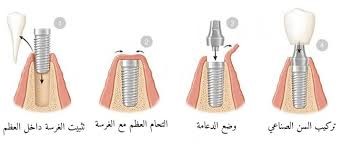 v Types of implants according to the time of implantation…
If there is adequate bone and no bone infection, immediate implantation after extraction is possible.
Fixed indirect implant completed two months following extraction.
v Eating after dental implants…
Until the local anaesthetic wears off, you can begin eating soft meals such mashed potatoes, macaroni and cheese, or scrambled eggs.
Once the anaesthetic wears off and your senses return, you can resume your regular diet. It is recommended not to try to chew directly on the implant sites.
v Dental implant suturing
Unless otherwise indicated, all of the sutures that are used throughout the procedure are soluble sutures and will dissolve on their own.
v Common questions about dental implants
Ø Is dental implant painful?
The dental implant often causes in minor pain; however, this obviously varies from patient to patient depending on their tolerance for pain and the complexity of the surgery.
How long does the pain last after dental implants?
You may experience pain and discomfort for up to 10 days after the procedure, but the dentist will prescribe painkillers to relieve it. There will also be swelling, which should subside in around 3–5 days.
v Tips and instructions after dental implants
The patient's awareness and commitment to the instructions contribute to the success of the operation by following the following tips:
It is advised that you begin rinsing with warm salt water the next day following the treatment surgery
Smoking increases the chance of infection and may cause a delay in healing; thus, it is advised that you give up this habit for at least 3 days following surgery.
Ø reduction of physical activity
reducing physical activity for the first 24-48 hours following surgery. Overexertion might cause bleeding and uncomfortable surgical side effects.
Put a pillow under your head when you are lying down.
Ø review appointment following surgery
One to two weeks after treatment, it is crucial to visit the doctor. If you have any questions or concerns before then, get in touch with us.